Discover more from Website Flipping Newsletter
Newsletter filled with details on website flipping from case studies, exclusive deal flow, how-to guides, and more.
Over 1,000 subscribers
(SOLD) Site For Sale: Home Niche Site Earning $436/mo
Home niche site earning via Amazon. Traffic diversified across many pages. Large upside in optimizing pages and display ads. Several quick wins!
Update

: This site has sold as of 10/16/2020. If you are interested in sites like these, stay tuned to this newsletter.
For sale is a high-growth website in the House niche. The earnings for the last 5 months were $436/mo (L5M) from Amazon Associates.
The traffic is diversified across many pages (the largest page has 25%). Pages are not optimized that well for affiliate earnings thus large room for improvement. The owner added Ezoic in October so that will increase earnings going forward and is not factored into the purchase price.
Being in the home niche, this site will do very well on Black Friday and the runup to the holidays in December. Partner that with the growing traffic month over month, the ROI on this will be much quicker.
Website Details:
URL: SOLD
Earnings:
October 1-15 so far: $258

L1M (September 2020): $681

L3M: $535

L5M: $436
We are using a L5M average. We are counting everything after Amazon commission cut in April to be fair to the buyer.
Monetization:
Traffic: organic via Google, Yahoo, and Bing
Why: The seller needs funds for personal reasons.
---
Site Metrics
Traffic
Last 30 days: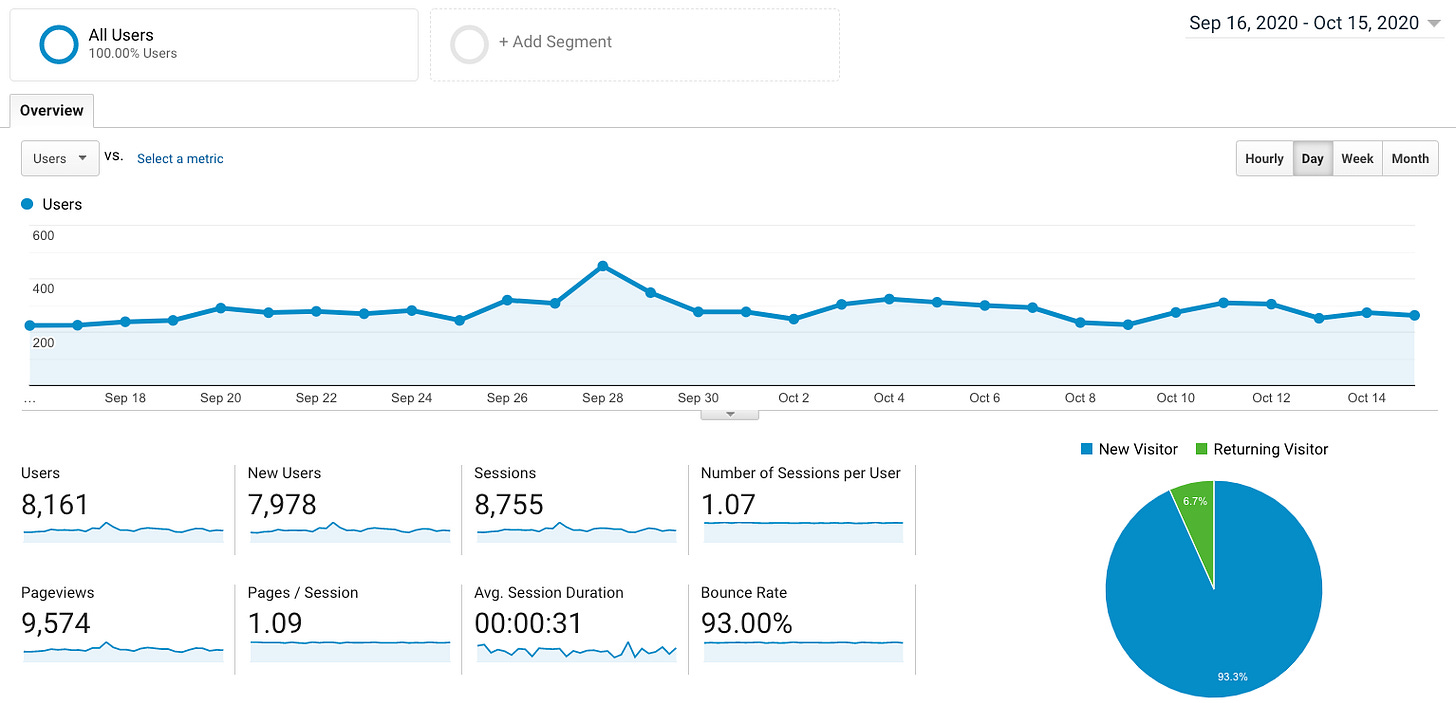 Last 12-months: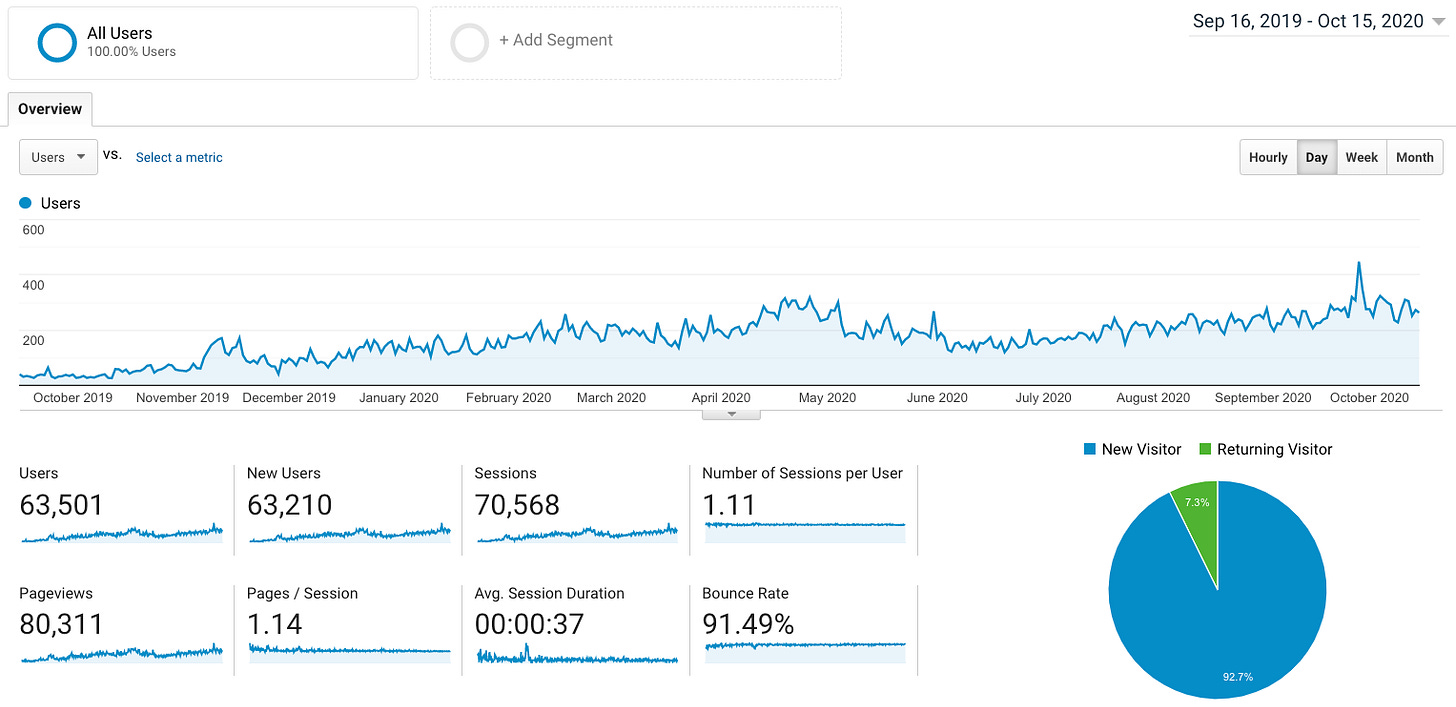 Diversified Traffic to Pages:

AHREFS: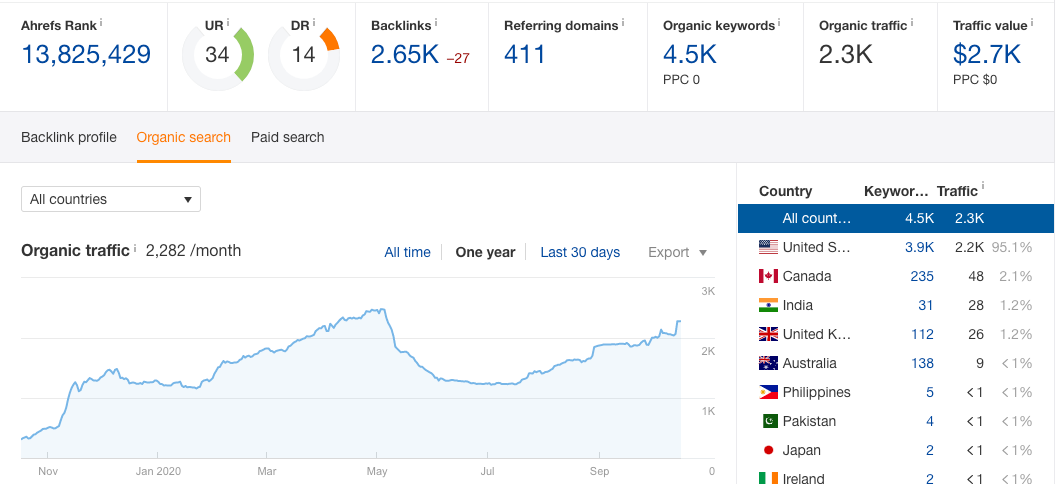 P&L and Earnings Proof:
Update: This site has sold as of 10/12/2020. If you are interested in sites like these, stay tuned to this newsletter.
---
How To Improve The Site: Quick Wins 🙌
Optimize top traffic pages for CRO: Many of the top pages do not have proper Amazon links; images are not linked, no product boxes, no proper comparison table with images. A few CRO changes can boost earnings.

Monetize further with Ezoic: Ezoic was just added in October 2020. Ezoic will take several weeks to optimize for the highest RPMs. This is an upside for the new buyer.

Improve on-site UX: the site can be improved with caching, image compression, etc. Easy fixes by installing different plugins. Find the list here.
---
Price
Price is $13,952
The website is valued on a last 5-month average which shows a large growth trend. The last 3-month average is $535 so there is a definite upside here to buy this now. Furthermore, Black Friday and the Holiday season is coming up, and being in the home niche, this site will do very well.
Note: This is not a site in my porfolio. I am selling on behalf of a client as a broker.
---
Next Steps…
If you are interested in the site, please email me back with any questions. I can add you to Google Analytics, and provide any reports from AHREFs.
Closing will be done with Escrow.com with 50/50 split in fees with a 1-day inspection period.
➡️ WP Transfer + Optimization Service: I am providing a service where I do the technical setup for a WP website. First package is handling the transfer to a fast hosting. The second package is speed optimization. Both have a nominal fee. Please mention in your response that you are interested in this. This is optional.  
---