Discover more from Website Flipping Newsletter
Newsletter filled with details on website flipping from case studies, exclusive deal flow, how-to guides, and more.
Over 1,000 subscribers
You are on this list because you either purchased a site from me via various brokerages (Flippa, Empire Flippers, etc.), met on Facebook groups, or joined via my brokerage, Inventige.

In the past, I've sent out website deal-flow valued at anywhere from $1,000 to $50,000 selling at reasonable multiples. I will continue to send out deal-flow through this email list as I get them in. That's not changing…
What is changing is that I will be compiling quality case studies on projects I've been working on silently. I've been anonymously submitting my case studies in Reddit's /r/juststart. But that alienates all of you from reading since you may not be aware.
These are some of the projects I currently have going on which I will document via this newsletter:
Dating/Relationship - DR 43 expired domain, purchased for $30,000, was earning $1,000 and grew it to $9,000-$11,000/mo. Sold it off to an investor which we now co-manage with equity/profit split.

Wordpress - DR 58 expired domain, purchased 2 months as just a domain for $4,000. Building this one up.

Outdoor - DR 49 website around since 2010. Purchased 3 months ago for ~$20,000. Currently working to grow this one to $10,000 per month.

and more….
---
Who Am I?
Great question… I am not a full-time SEO specialist. This is not my career. I've been working at tech startups as technical lead (i.e., head of research, director level) positions.

In 2008, I stumbled upon SEO and built up my first website in the Voice Over Internet Protocol (VoIP) niche. I worked on it for 2 years while in college and was approached by an Australia company for a buyout. I sold it for $25,000 via Escrow in 2010! That was game-changing for me as a 20-year-old student.
Fast forward more than a decade, I've been buying, growing, and selling sites as a side-business with many 6-figure exits. I am a Super Seller on Flippa (see my profile here)… scratch that, I was a Super Seller until I had a 1-year legal battle for copyright issues on a site I sold. Interesting story for another time…
I've seen this industry grow, multiples rise, brokerages start-up and dominate the space (i.e., Empire Flippers). Was one of the early buyers of sites on EF's platforms in 2015, which turned into an amazing case study: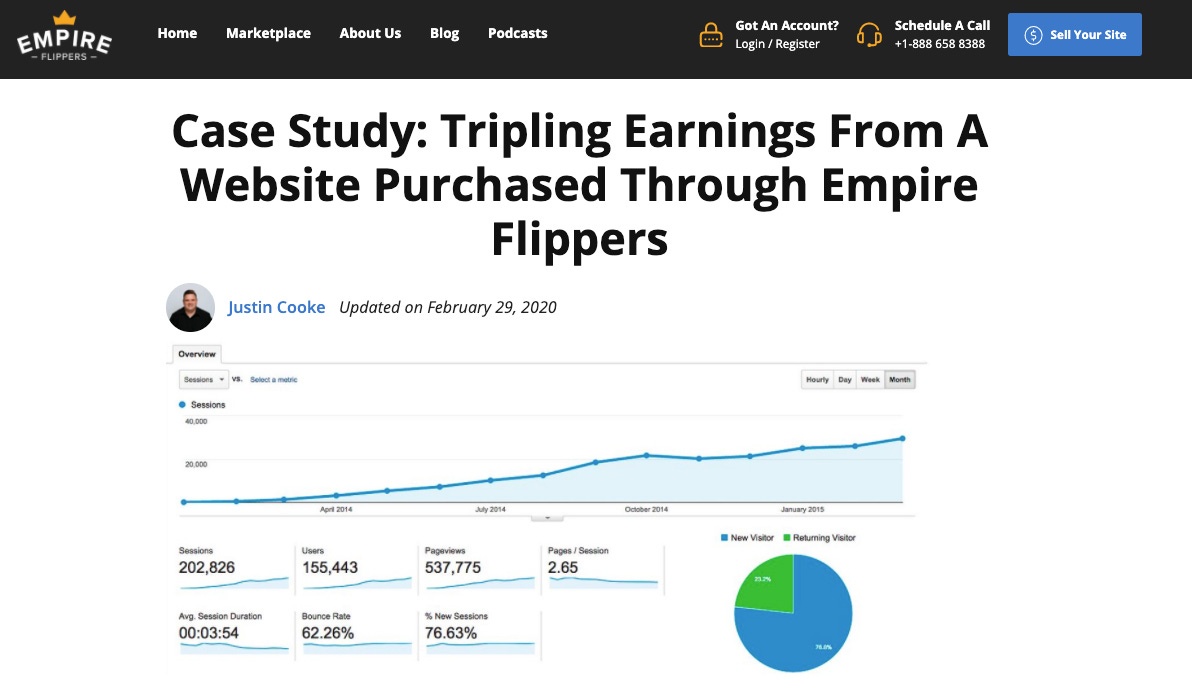 I am not a so-called guru and would hate to be one. Just a motivated website investor who loves this game!
I do not like to publicize my SEO business and that's why I prefer email so I can connect with you in your inbox rather than blogging publicly.
---
Why Am I Doing This?
I already document each of my sites' progress on a monthly basis. Thus, not any extra effort for me.
I may sporadically add affiliate links to various plugins, themes, services, etc that I use. It's a win-win for you. You get to see me try different things and give you the data so you can make a decision for yourself. Think of this as a monetary way to keep me motivated.
---
Stay Tuned!
I won't be bombarding you with an email autoresponder series sending you an email every 2 days at 9 AM… nope. Expect an email from me a couple of times a month with updates to my current websites I am building up, and any website deal flow.
If you are not interested in these topics, feel free to unsubscribe below. No hard feelings!
Reply back and let me know what you are having trouble with, what you want to see in case studies, and more. Looking forward to connecting!